HOME
>
FACTORY INFORMATION
FACTORY INFORMATION
The secret behind the great taste of Ajirushi octopus lies in its factories. Fresh octopus imported from West Africa is thoroughly cleaned and placed into a specially designed steamer to be cooked.
The process is simple, from delivery to processing right through to shipment allowing Ajirushi to treat the product with nothing but respect. Let's see inside the Ajirushi factory, home of the delectable Ajirushi octopus.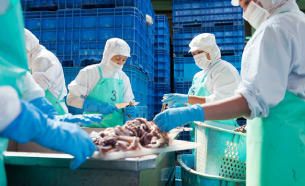 Cutting
An incision is made at the base of the legs to give the octopus its round, plump shape when it is steamed.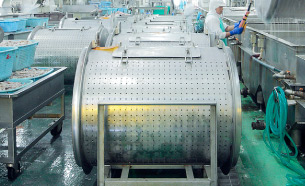 Cleaning
The octopus is then placed in a revolving cleaning barrel where salt is used to remove the slime that causes unpleasant odors.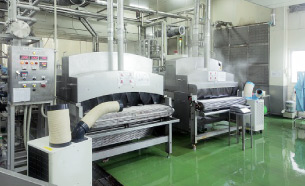 Steamer
The octopus is steamed at a temperature between 90-95°C. The high humidity helps to produce juicier, plump octopus.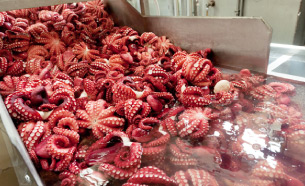 Cooling
The octopus passes along a conveyor to a container where they are immersed in cold water for approximately 20mins to cool.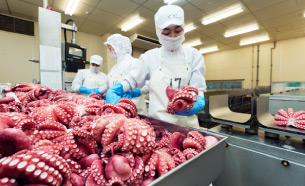 Screening
The octopus is measured by a computer system and is automatically screened by weight.

Shipping
It is then packaged ready for shipping. 10 tones of Ajirushi octopus is shipped to dining tables in homes every day.